THAT'S A WRAP!!!
The 2021 Springfield Jaycees Holiday Lights Parade took place on the evening of December 4th. We welcomed nearly 40 floats and estimated crowds of 3,000 individuals lining the streets. We are extremely thankful to all of our sponsors and the support of the City of Springfield.
2021 Sponsors Included:
Downtown Springfield Inc
Lakeisha Purchase- Ward 5 Alderwoman
Mark Cortesi- State Farm Insurance
Ace Sign Co
Butler Funeral Homes
Wood N' Nickel Society
MCB Buildings & Excavating
If you wish to become a sponsor for the Holiday Lights Parade in 2022, please email us at spfldjaycees@gmail.com and we will be sure to contact you with available opportunities.
Please check back next fall for dates and entry forms for the 2022 Holiday Light Parade.
Stuff the Sleigh for Springfield
We are excited to bring back Stuff the Sleigh in 2021. You can find us on the corner of Adams and 4th Street the first 3 Wednesdays of December. Bring toys, food, warm clothes or books to donate to those in need in the area. Follow our Facebook page for more detailed information for this Holiday Donation Drive.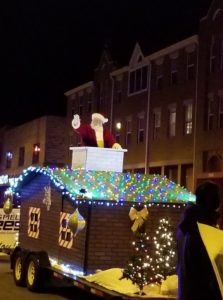 History
The Springfield Jaycees have presented the Holiday Lights Parade for over 70 years. The first Christmas parade was held in 1949 and it has been held continuously since 1972. It has gone through many transformations throughout this time; as a weeknight parade, a daytime event, an extension of the Downtown Holiday Walks, and more.