SAVE THE DATE!
The 2022 Springfield Jaycees Holiday Lights Parade will be Saturday, December 3rd, 2022 at 5:30pm in Downtown Springfield as part of the Downtown Springfield Inc. 2022 Holiday Walks. We are super excited to welcome back the parade for another great year.
PLEASE NOTE: We do have a new contact email specifically for this event – [email protected]
Participants:
If you or your organization would like to be in the 2022 Holiday Lights Parade, please fill out the form linked here.
Entry Fees:
$15 – Nonprofit or Not-for-Profit Organizations
$25 – Businesses
$100 – Political Entries
Sponsorships:
2022 Sponsors Include:
Downtown Springfield Inc
Ace Sign Co
Horace Mann

If you wish to become a sponsor for the Holiday Lights Parade in 2022, please email us at [email protected] and we will be sure to contact you with available opportunities.
Stuff the Sleigh for Springfield
Stay tuned for information for the NEW and REVAMPED Stuff the Sleigh for Springfield Drive coming in 2022!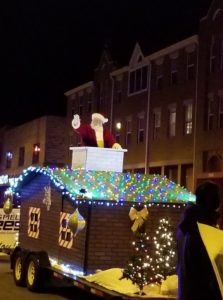 History
The Springfield Jaycees have presented the Holiday Lights Parade for over 70 years. The first Christmas parade was held in 1949 and it has been held continuously since 1972. It has gone through many transformations throughout this time; as a weeknight parade, a daytime event, an extension of the Downtown Holiday Walks, and more.