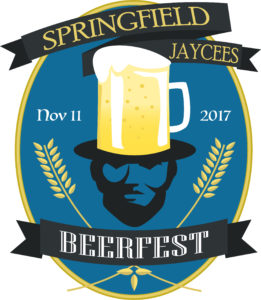 Springfield Jaycees 2017 Beerfest
November 11th   2-8pm
Exposition Building, Illinois State Fairgrounds
The Springfield Jaycees will be bringing together a collection of local and regional craft beers for your sampling pleasure along with wine vendors, local breweries and liquor stores. Local DJ Chris Murphy will be providing music throughout the day and the Jaycees will be providing bags, Jenga and other activities on site. We encourage any true craft beer lover to purchase our Beer Enthusiast package as this grants you admission into the event an hour early for the tapping of our limited release kegs at 1PM. Souvenir glasses will be available while supplies last. There will also be a 50/50 tickets sold and a basket of booze raffled off.
Get Tickets Here or at the door
We have 3 ticket levels:
Beer Enthusiast $40 (advance only)     1-hour early admission *Special release tastings *20 tickets *Glass for the event *Only 100 available
Average Drinker $25 (advance) $30 (at door)     10 tickets *Glass for the event
Designated Driver $7     Admission to the event
Want to Volunteer?
Must be 21 years old or older.
We have multiple options:
Set up Friday evening from 6PM-9PM
Day of Event we have 3 shifts:
12:00PM – 3:30PM (We will be opening an hour early for our Beer Enthusiast ticket holders)
3:00PM – 6:30PM
6:00PM – 9:30PM