The Springfield Jaycees' Capital City Celebration 2017
Arch Coal-Viper Mine presents Springfield Jaycees Capital City Celebration 
The Springfield Jaycees Capital City Celebration on Saturday, July 1, will be the first festival to use the former YWCA block downtown. Thanks to Arch Coal-Viper Mine, this year's signature sponsor, there will be fireworks, great music, and entertainment for all ages at Capital and 4th Street from 11am through midnight.
The Springfield Jaycees Capital City Celebration is funded by donations and organized by volunteers.
Springfield Jaycees President Jessica Morrison said this year's event was gearing up to be a great one at its new location. "We are very much looking forward to welcoming everyone in Springfield, and the surrounding areas, to the former YMCA block to celebrate with us, have fun, and come together as a community."
Events:
Fireworks will begin at dusk. Ice cold Budweiser products, liquor, and other beverages will be available for purchase as well as tasty food options from several food vendors.  Merchant vendors will also be on hand throughout the day.
Facebook Event for the Capital City Celebration 2017
Jaycees Kids Zone presented by LRS
Join your favorite superheroes and princesses in a fun filled day of entertainment with a pageant for boys and girls, inflatables, rock wall, Girl Scouts crafts and make your own slime. Further additions to the Kids Zone will be announced soon. The Kids Zone will open from 11am to 6pm and located on the former YWCA site.
Facebook event for patriotic kids pageant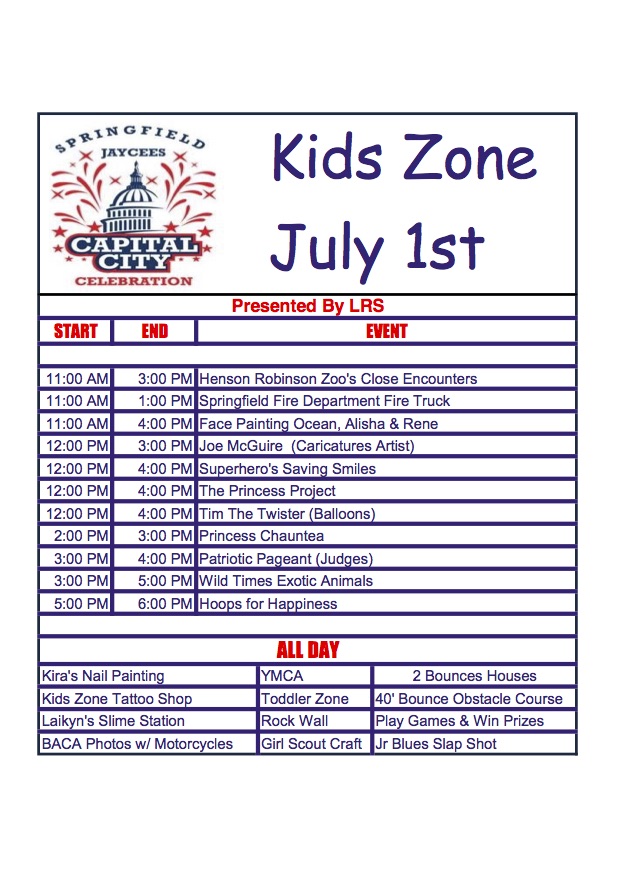 Dog Beauty Pageant presented by Parkway Veterinary Clinic 
Bring your dog down for the Dog Beauty Pageant benefiting the APL at 11.30am.
Facebook event for the Dog Pageant
Broseph E. Lee presented by Bud Light at 9pm 
You can expect a full-blown country-rock concert with Broseph E. Lee. Featuring current and classic country hits, each show also includes rock ballads and pop spanning the 80s to today.
Other performances include the Springfield Municipal Band at 7pm, Devin Williams Band at 4.30pm,, and Wood 'n' Nickel Society at 1.30pm.
Sponsors and in-kind donations this year include: Arch Coal Viper-Mine, LRS, Midwest Family Broadcasting, Bud Light, Augie's Front Burner/American Harvest Eatery, Carrollton Bank, Jason Gibson at Diamond Residential Mortgage, Gem PR & Media Inc./Eighteen21.com, Heartland Credit Union, Marine Bank, Parkway Veterinary Clinic, President Abraham Lincoln Doubletree Hotel, Sparky's Ice/Crowder Corporation, Springfield Collision Center, Springfield Rotary South, Troxell, and Valco Awards and More, Inc.
The Springfield Jaycees is a local chapter of the United States Junior Chamber and the Junior Chamber International. The Jaycees provides individuals between the ages of 18 and 41 the opportunity to develop personal and leadership skills while serving the community.
For more information please visit www.facebook.com/SpringfieldJaycees/
Kid Patriotic Pageant Registration form